Crawling Back from a Short Hiatus like a Platypus
.
Writing letters to myseLf...
Blog hopping, I took fancy for this idea of fellow blogger Randy Valiente...
From Randy's blog entry entitled: "
Weird Words Week
":
"...Naisip ko tuloy, makikilala mo ang isang tao sa mga sulat na kanyang natatanggap. Well… susulatan ko nga ang sarili ko. Ia-address ko sa dati naming bahay sa Novaliches, tingnan ko lang kung may makaka-receive o babalik sa 'kin. Babaliwin ko lang 'yung kartero. Galing kay Randy Valiente, para kay Randy Valiente."
Here's what popped up in my mind:
Dear Randy,
Magandang ideya 'yan...ang sulatan ang sarili at ipadala ang mail sa sarili mo through the post office.
Ako naman, matagal ko nang naumpisahan ito...occasionally ay sinusulatan ko ang future firstborn ko (na gagawin pa lang namin ng mapapangasawa ko pagbalik ko ng Pilpinas sa 2007)...paminsan-minsan ko sa kanyang ikinukwento ang kanyang ama at ina. Isini-seal ko sa white envelope ang bawat sulat, then iniipon ko sa isang malaking brown envelope. Ibibigay ko ang lahat ng sealed letters na 'yan sa panahong marunong nang bumasa ang future firstborn namin ni Charlotte. Kapag binibisita ko yung brown envelope ay natutuwa ako, kasi marami-rami na rin pala ang letters na naisulat ko para sa aming maging panganay. Nu'ng middle of last year ko pa kasi inumpisahang gawin 'yan.
Ang sarap magk'wento sa kanya. Minsan, lalo na kapag immersed na immersed ako
sa ikinuk'wento ko,
feeling
ko e talagang buhay na ang panaganay kong 'yan na kinakausap ko sa sulat. Ang sarap ng pakiramdam.
Ngayon, gagawin ko ang naisip mo...susulatan ko ang sarili ko. Alam mo, sa palagay ko ay magandang ideya yan. Sa tingin ko ay may psychological effect itong mangyayari. Di ba, kapag may sinusulatan tayo, e habang nagsusulat na e, nasa isip natin 'yung sinusulatan natin? So, in this case, habang nagsusulat na 'ko, e siguradong maiisip ko ang sarili ko as if he's a different person.
Tapos, pag dumating na yung letter ay babasahin ko ito nang iniisip 'yung nagpadala as if ibang tao ito...
Hahaha, kakabaliw nga kung iisipin, pero gusto ko na maranasan mismo. Ibabalita ko na lang sa 'yo kung ano pakiramdam habang binabasa ko na ang unang sulat na matatanggap ko mula sa sarili ko, through the post office, of course
Salamat sa idea, Randy. I will tell you as soon as I mail my first letter to myseLf.
%%%
I didn't want to consider this blog entry as my return from hiatus, for, as of this moment, I'm still spending time with my books...but, what else would I call this? But another blog entry. Tsk, tsk, tsk. While taking a few minutes' gander at my friends' blog sites, I thought of writing something short and spontaneous. (Isn't this the real essence of blogging anyway? Spontaneous writing of usually short ideas?) But, "talkative" and restless as my mind always is...oh well.
A dozen songs from my playlist yesterday...
1. The Postal Service - "Such Great Heights"
2. The Killers - "All These Things that I've Done"
3. The Arcade Fire - "Rebellion (Lies)"
4. Rilo Kiley - "Portions of Foxes"
5. Coldplay - "Speed of Sound"
6. Ash - "Shining Light"
7. The Tears - "Two Creatures"
8. British Sea Power - "Remember Me"
9. Suede - "My Insatiable One"
10. Death Cab for Cutie - "I Was a Kaleidoscope"
11. Dinosaur Jr. - "Feel the Pain"
12. The Church - "Tear It All Away"
Here Come The Tears: Mako Sakamoto, Bernard Butler, Will Foster, Brett Anderson, and Nathan Fisher--the new band of former Suedeheads Bernard Butler and Brett Anderson.

On books and reading...
Inspired by a sort of a philosophical discussion (about human tendencies) which, I think, I ignited in the newwave101 yahoogroups of which I was a member, I decided to reread my book Philosophy: 100 Essential Thinkers (2002) by Philip Stokes. Never volatile, I always stand firm by my beliefs and principles; but my mind is free-flowing as well as forever considering. I mean, I always allot room for self-modification and refinements. Well, that's the essence of Seeking Enlightenment. Besides, facts and fictions once in a while change places. Many facts of today were once fictions, in the same manner many truths of the past are now fallacies.
Did you know that Saturn is no longer the only ringed planet in the Solar System?
And, wasn't Earth used to be the center of the universe, well, at least, theoretically?

I'm near the middle part of Ann Rule's Green River, Running Red (2004), which tells of one of America's deadliest serial murderers. I used to ignore this kind of books, but my sister Lovelle's interest for such stories influenced me into adding the genre on my list. Lovelle's books introduced me to many of the most interesting characters in the annals of heinous-crime history, like Charles Manson, Albert Fish, and Fritz Haarmaan.

I continued The Hero with a Thousand Faces (1972) by Joseph Campbell, a really difficult read especially that my mind, these days, lacks enough focus, but I've finally got well into it.

Another book I've started reading is the Dover Thrift Edition of Ralph Waldo Emerson's Self-Reliance & Other Essays (1992). In it Emerson wrote, "Nothing at last is sacred but the integrity of your own mind."

I spent the past days reading Web-site articles as well: "Rock and Roll music," "Alternative Rock music," and "Heavy Metal music" (on Wikipedia.org); "Paul Bernardo & Karla Homolka" (contemporary serial rapist-killers) (on crimelibrary.com), and "Evolutionary Psychology" by Steve Pinker.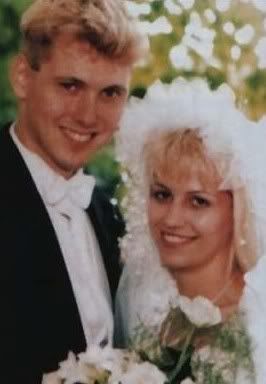 .........................Paul Bernardo and Karla Homolka: A couple-in-crime

The danger of reading and thinking too much...
My mind these days is really wolf-hungry for anything edible and potable. In fact, I've been reading even the billboards along the highways and other advertisements everywhere. I saw this establishment (a pawnshop)somewhere in downtown Winnipeg named Pawn Dora's Box. This reminded me of a forwarded e-mail message I received which featured a list of Philippine establishments whose names are derived from other, more popular business names. I thought, "I told you, not only in the Philippines we do find plagiarized, "unoriginal" business names like Mang Donald's Carinderia (McDonald's), Jolly Jeep (Jollibee), and Me Keni Roger's (Kenny Roger's). I think, this human folly is universal--the human tendency to copy ideas.

Every time we ask Grandfather, "Pa, what do you want to eat?," he'd usually reply, "Maski ano [Anything]." Because of this, I've been toying with the idea of putting up a Filipino restaurant which I'd be calling Maski Ano Filipino Restaurant, which will cater specially to people who are already jaded of deciding for themselves, who are too tired even to choose between simple things.

All our customers need to do as soon as they decide to eat at Maski Ano Filipino Restaurant is: To sit wherever our receptionists ask them to sit, eat whatever our chefs have prepared for the day, pay whatever amount the cashier asks them to pay, and leave the restaurant anytime the manager wants them to. How's that! Wouldn't that be cool? Leaving your most important decisions to the hands of others you don't really know even only for a while?

Green...
Unfortunately, I couldn't upload pictures using the Hello Web tool so I won't be able to show all of you my new hair color. Green! Hahaha! Yeah, I finally found a hair salon here in Winnipeg which sells fancy hair dyes. I would have bought the purple one; but since the purple dye I bought in B.C. didn't color well, I settled for green, which satisified me. This is washable anyway, after about five instances of shampooing. There are other colors available: pink, blue, and red. Hmm, next time. Go on, aLfie, bastardize your hair all you want. Why not, I'm still jobless anyway.

A dozen of my all-time favorite animals...
1. platypus
2. tapir
3. pangolin
4. dugong
5. alpaca
6. emu
7. sea anemone
8. walrus
9. sea dragon
10. tarsier
11. praying mantis
12. human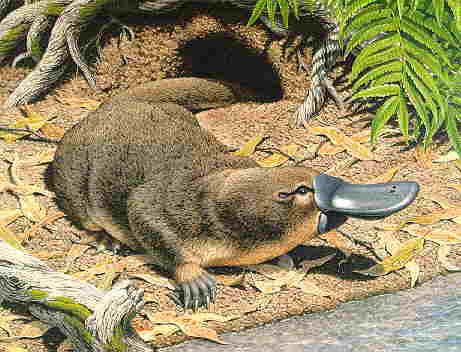 ..................................................................................................................A baby platypus is called puggle.
The first ever book I received in my entire life was an animal encyclopedia. My father gave it to me when I was about five. Since then, I developed a fascination for animals and their peculiarities. Growing up, I realized that humans are better curiosities--far more interesting, peculiar, and unpredictable.