Saving the Verses Fortune Cookies Tell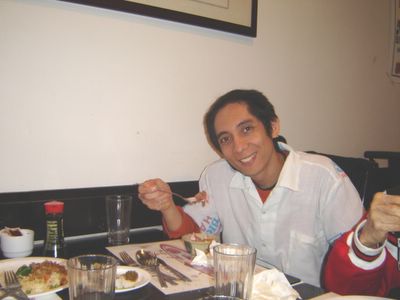 Photo taken on Monday, April 11, 2005, at Oriental Buffet Chinese Restaurant in Surrey, British Columbia, Canada

I enjoy eating at a Chinese restaurant mainly because of the fortune cookies the server brings to the table at the end of the meal.
Here where I am, we usually dine at Oriental Buffet Chinese Restaurant or at Ho Do
Szechuan
'川菜' Restaurant; and near the end of the meal, I excitedly wait to receive my fortune cookie, which I don't eat anyway but whose paper-strip of wisdom I contemplatively read and then tuck in my wallet.
I don't actually believe in such verses fortune cookies tell, but like almost everyone, I am thrilled to read them because they give me a sense of hope and feelings of great expectations.
Here are the fortune-cookie verses I've collected so far.
Find the road to your happiness by helping others.
Simplicity and clarity should be your theme in dress.
Answer just what your heart prompts you.
You have a deep interest in all that is artistic.
You will always have good luck in your personal affairs.
A wise person knows everything; a shrewd one, everybody.
Your kindness to others shall be returned to you threefold.
Seek to establish your inner sense of serenity.
Your career plans look bright.
You shall attain great wisdom with the passing years.
Share your happiness with others today.
You will have a pleasant surprise soon.
Your love life will be happy and harmonious.
You constantly struggle for self-improvement.
Be assertive and you will win.
You love peace.
Angel on My Shoulder
by
The Cascades
(
Rhythm of the Rain
, 1963)
' Got an angel on my shoulder
' Got a penny in my pocket
And I found a four-leaf clover
And I put it in my wallet
Wished on all the stars above me
And I caught the nearest rainbow
' Gonna find someone to love me
' Gonna find someone to love

Well I tossed a lot o' nickels in a wishing well
And saved the fortunes that the fortune cookies tell
I've got a lucky penny and a mustard seed
But a warm and tender love is all I need
And I want a love that lingers
And is stronger through and through

So I'm gonna cross my fingers
That I find a girl to love me true
And I'm gonna love her too
And I'm gonna love her too

======================================================
Luckily I already found my angel, and she's the best fortune I ever received.
======================================================
The Voice behind The Cascades
Having heard of the news from several friends that the reformed '60s group The Cascades were performing in the Philippines this month, I e-mailed the composer/vocalist of the group.
Mon, 4 Apr 2005
Dear Mr. John Claude Gummoe,

I wanted to express my admiration for The Cascades especially for the songs included in that blue album of yours. These songs I grew up listening with, because I remember my parents and uncles playing that record on our phonograph back in the early '70s.

I'm already 34 and enjoy New Wave and Alternative music but your songs and their fellows from your batch are still part of my playlist.

It's nice of you to take the time to write the band's biography. It helps a lot, especially that many false rumors used to circulate in the past years about your group's alleged demise.

Anyway, nice to read your efforts on your Web site.

I'm at the moment listening to the "Rhythm of the Rain."

an avid music enthusiast,

aLfie vera mella
==========================================================
I was surprised to receive a prompt reply from The Cascades' vocalist.
==========================================================
Mon, 4 Apr 2005
Thank you so much for your kind words. I always like to hear from our fans around the world. Are you in the Philippines? We are leaving Saturday for three concerts there, two in [Metro] Manila and our final day at the Waterfront Hotel in Cebu.
In Manila, we will be at the [Araneta] Coliseum and at the Hard Rock Cafe in Makati City.
Thanks for writing, and I'm so glad I was able to please you and your family all these years.
John Claude Gummoe