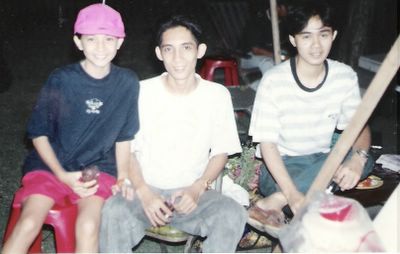 Photo taken in November 1994 at Manila Memorial Park in Sucat, Parañaque City, Metro Manila, Philippines:

My sister Kim, I, and my best friend Rain

Last December, in time for Christmas, I sent Rain a package which included a letter. And as always, he replied in the same fashion. I received the letter a few days ago. I texted him right away, saying:
"Rain: Finally it arrived, yesterday. As always, your letter never failed to curve a smile on my face and to prick my heart. Thanks. I needed everything you said there. You can send the book now. Hahaha. I'd be sending you the books I've finished—naubusan lang ng ink—along with, of course, my postal reply to your letter.—aLf"
Now, I'd like to share with all of you my best-friend Rain's latest letter, which, I'm sure, anyone would easily regard as not only a letter to a dear friend but also a literary piece in itself.