Creepey, My Brilliant-Red Creepers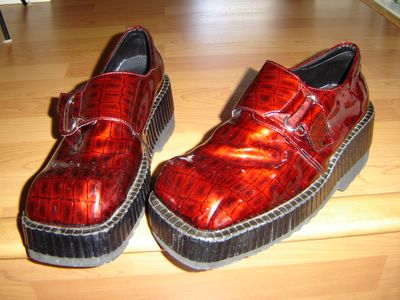 This is my fourth pair of
Creepers
, the only one I bought ready-made, days before I left for Canada, 2003, at a fashion boutique at Goldcrest, Glorietta/Ayala Center, in Makati City, Philippines.

According to the salesperson, this was the only pair, imported from England, and that it was on display for already quite some time; virtually all customers had expressed their awe and fancy for this pair of beauty; but, obviously, no one dared to buy it except me.
As I said, Creepey was already my fourth pair of Creepers; the first one (
black-suede cheetah-fur
style; long deceased) and the second (
sandal
style; already worn out, it I gave to a Punk-Rocker acquaintance named Joseph before I left the Philippines) I bought custom-made at Luciano Shoes on Recto Ave., Manila, in 1988 and in 1991, respectively. The third one, my well-known eLf-shoes, my original design, I had it made in 1995 at Freddie's Shoes, also located on Recto Ave., Manila.
Creepers
became popular in the Philippines in the '80s, especially among enthusiasts of the Punk Rock / New Wave music of the era.
Fortunately
, their popularity faded through the years, leaving them to the true fashion-unconventionals who have the guts to wear such shoes in full glory and confidence.
Here are some similar types of shoes that I wish to buy as soon as budget permits me:
Doc Marten's
Peanut
Doc Marten's
Twin T-Bar Black Red Rub-Off
Doc Marten's
Red Shiny Patent Leather
TUK
Lucy Pink Suede
TUK
Barbie Pink Glossy
Tredair
Two-Tone Baby-Blue-and-Light-Blue Maryjane
Tredair
Two-Tone Fuschia-and-Pink Maryjane
Tredair
Burgundy Swirly Smooth Leather
Tredair
Pink Cathead
Gripfast
Eye-Blue Steel Paratrooper Boots
Pennangalan
Gulliver Shoes
(because my custom-made Gulliver shoes are already worn out)
Rivithead
Purple Flame Maryjane
.