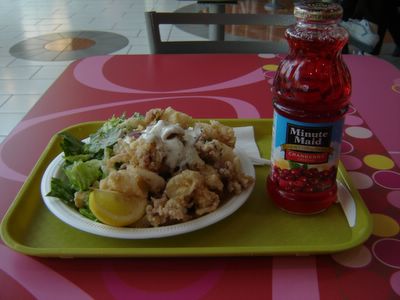 Photo taken on Saturday, May 21, 2005, at the Metrotown Centre food court in Burnaby, British Columbia, Canada:
Finally, I got to try my friend Bheck's recommendation—calamari caesar (coupled with Minute Maid Cranberry Cocktail juice) at OPA of Greece. What can I say but Bheck was right: the particular Greek dish was worth tasting; the calamari was unexpectedly soft. I would have also ordered another Greek favorite of mine, lamb souvlaki, but the calamari caesar was enough to make me stuffed.

Opa is a Greek interjection which is synonymous to "Bravo!," "Yippee!," or "Hooray!"