But Not Tonight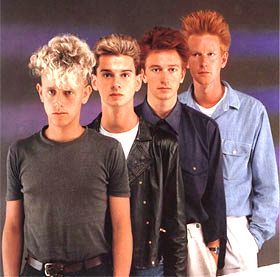 Depeche Mode, in 1989: Martin Lee Gore, Dave Gahan, Alan Wilder, Andrew Fletcher

Replacing "Mr. Brightside" by The Killers as my blog site's soundtrack is a song from another all-time favorite band of mine,
Depeche Mode
.
"But Not Tonight" comes from the album
Black Celebration
, released in 1986. One of my all-time favorite DM singles, it was a song my other band, Dream Kitchen (1997–1999), used to cover in our gigs.
In 1995, Depeche Mode was reduced to the trio of Gore, Gahan, and Fletcher when Wilder left because of personal differences; he consequently pursued his solo project Recoil.
Although Gore has long been regarded as the chief composer of the group, the departure of Wilder had obviously resulted in the deterioration of Depeche Mode's music. I agree with the many fans who declared that "Depeche Mode had in essence broken up with the departure of Alan Wilder in 1995."
Depeche Mode's last two Wilder-less albums—
Ultra
(1997) and
Exciter
(2001)—indeed pale in comparison with their predecessors. Gone were the rich soundscapes and infectious melodies for which Depeche Mode's music has been well known.
"While Gore was capable of generating excellent source material, Wilder was the one who turned it into something particularly Depeche Mode–ish."
Regardless, I'm still looking forward to what the trio is currently brewing...
According to the band's official
Web site
, Depeche Mode is currently in London, mixing the 'as-yet-untitled' new album, the target release date of which is in October of this year.
But Not Tonight
by Depeche Mode
(Black Celebration, 1986)
Oh God, it's raining
But I'm not complaining
It's filling me up with new life
The stars in the sky
Bring tears to my eyes
They're lighting my way tonight
And I haven't felt so alive in years
Just for a day on a day like today
I'll get away from this constant debauchery
The wind in my hair
Makes me so aware
How good it is to live tonight
And I haven't felt so alive in years
The moon is shining in the sky
Reminding me of so many other nights
But they're not like tonight
Oh God, it's raining and I'm not containing
My pleasure at being so wet
Here on my own
All on my own
How good it feels to be alone tonight
And I haven't felt so alive in years
The moon is shining in the sky
Reminding me of so many other nights
With my eyes they've been so red
I've been mistaken for dead
But not tonight
My Other, Dozen Depeche Mode Favorites
(Believe me, I found narrowing this list difficult; this is how I love Depeche Mode's music)
"What's Your Name?" (
Speak & Spell
, 1981)
"See You" (
A Broken Frame
, 1982)
"Everything Counts" (
Construction Time Again
, 1983)
"Two Minute Warning" (
Construction Time Again
, 1983)
"People Are People" (
Some Great Reward
, 1984)
"It Doesn't Matter" (
Some Great Reward
, 1984)
"Somebody" (
Some Great Reward
, 1984)
"Master and Servant" (
Some Great Reward
, 1984)
"Blasphemous Rumours" (
Some Great Reward
, 1984)
"Flexible" (
Catching Up with Depeche Mode
, 1985)
"Question of Lust" (
Black Celebration
, 1986)
"Stripped" (
Black Celebration
, 1986)
Runners-up
[he-he-he]
"New Life" (
Speak & Spell
, 1981)
"Just Can't Get Enough" (
Speak & Spell
, 1981)
"Leave in Silence" (
A Broken Frame
, 1982)
"The Meaning of Love" (
A Broken Frame
, 1982)
"Love in Itself" (
Construction Time Again
, 1983)
"Strangelove" (
Music for the Masses
, 1987)
"Personal Jesus" (
Violator
, 1990)
"I Feel You" (
Songs of Faith and Devotion
, 1993)
"It's No Good" (
Ultra
, 1997)
"Dream On" (
Exciter
, 2001)
Favorite DM Covers*
"Never Let Me Down Again" by The Smashing Pumpkins
"World in My Eyes" by The Cure
"Somebody" by Veruca Salt
"Everything Counts" by Meat Beat Manifesto
*All are found in the Depeche Mode tribute album DM: For the Masses (1998)