In Honor of Riel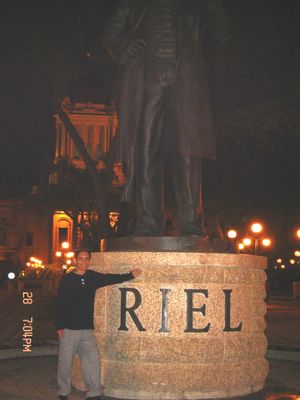 Photo taken on Saturday, May 28, 2005, near the Manitoba Provincial Legislature building

I stumbled upon this statue near the Manitoba Provincial Legislature building in Winnipeg, Manitoba. The name RIEL curved a smile on my face because it automatically reminded me of my friend
Ria
, who also uses the nickname
Riel
.
Ria (C. Elaine Mendoza) and I had worked for quite sometime back in my last job in the Philippines. While I was the editor of Diwa Scholastic Press Inc.'s scholastic magazines
BatoBalani
(Highschool Science & Technology),
Magica
(Highschool English) and
Abracadabra
(Elementary English), Ria was one of my prolific and proficient contributors. She currently works in
Dubai
( دبيّ ), United Arab Emirates, as a writer/assistant editor for Strategic Publishing.
The Statue of Riel
was erected in honor of
Louis David Riel
(1844–1885), whom many Canadians regard as the "Father of Manitoba." Riel was a leader of a resistance movement against the Canadian government in the 1870s. He was instrumental in establishing Manitoba—previously a part of Northwest Territories—as a legitimate province. Because of political conflicts, Riel was arrested for treason. Found guilty, he was executed in 1885. He rather chose death when he disapproved of his lawyer's suggestion that he plead
not guilty
by reason of insanity, declaring:
"Life, without the dignity of an intelligent being, is not worth having."